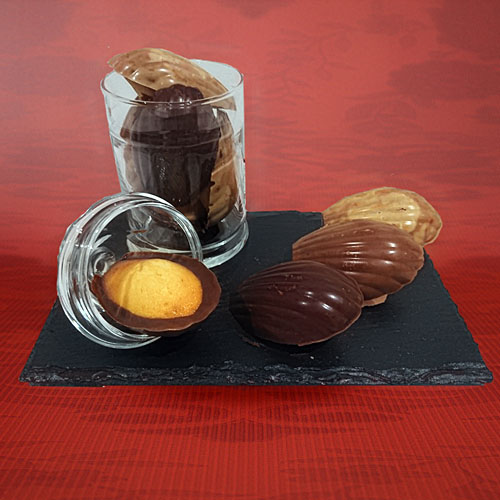 Madeleines Torino
Ingredients for approx. 20 pcs
100gr butter
125gr sugar
2 eggs
1 dl milk
250g flour
1 teaspoon baking powder
1 pinch of salt
20 squares of Torino chocolate
Preparation
1. Cream the butter in a bowl.
2. Add the sugar and a pinch of salt to the butter and whisk for 10 minutes.
3. Add the eggs, one by one, while stirring.
4. Pour in the milk, mix and then add the flour and baking powder. Stir to obtain a smooth dough.
5. Pour into greased and floured Madeleine tins.
6. Bake in the oven at 240°C, and after 5 minutes lower the temperature to 200°C for another 10 minutes. Check the cooking time and remove from the oven (Recipe source: "Recipes for cooking and food hygiene").
7. Take the Madeleine mould and place a square of Torino in each mould. Take advantage of the hot oven and leave to melt for 1 minute. With a brush, line the mould and put the madeleine back in.
8. Once the mould is full, leave in the fridge for 2 hours and remove from the mould.
Recipe by Maude Riat & Elisabeth Guélat
All recipes
Choose your Torino variety! h3>