1
2
3
4
4
4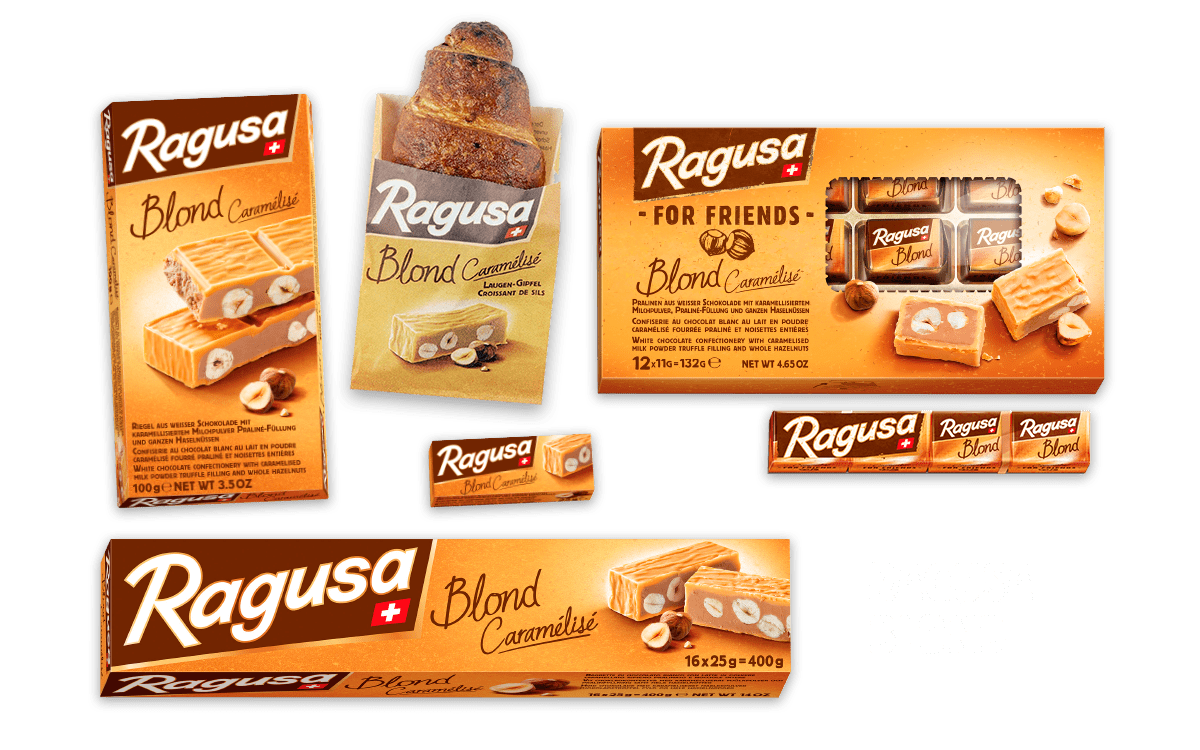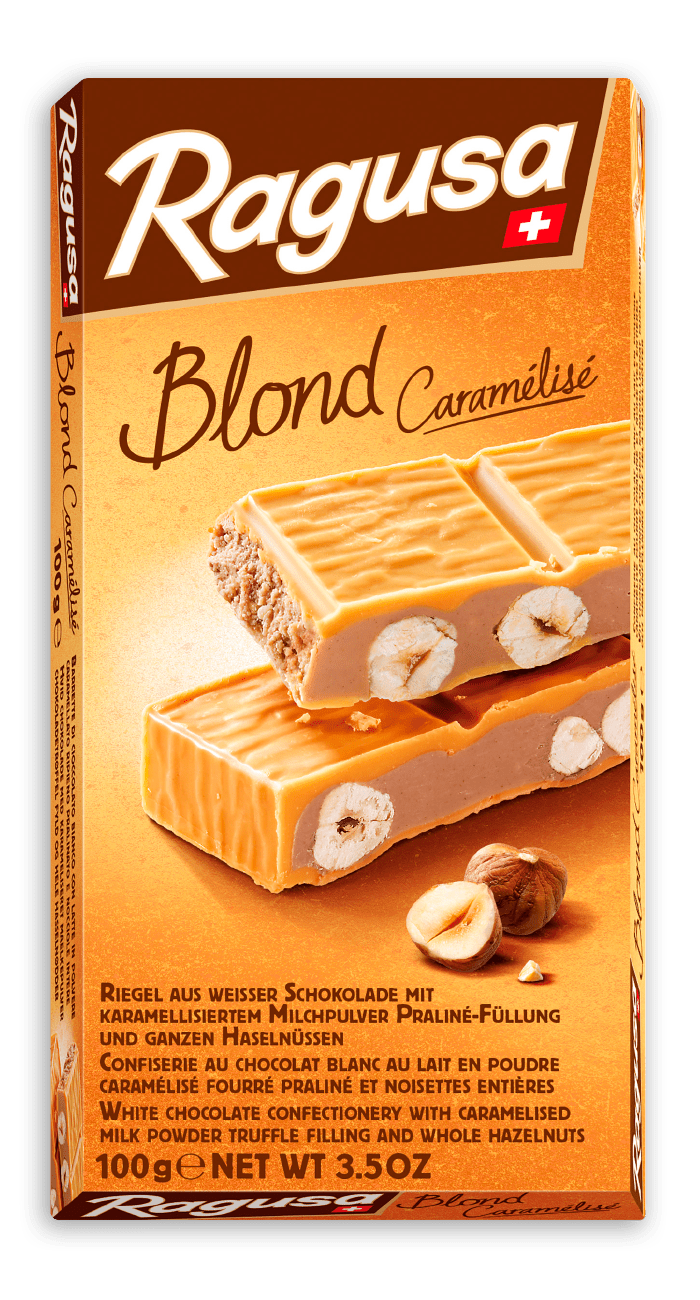 Ragusa 100g
Some series are so exciting that you just have to know what happens next. Either way, we'll continue with Ragusa. Because the 100g are enough even if you watch more than one episode in the evening.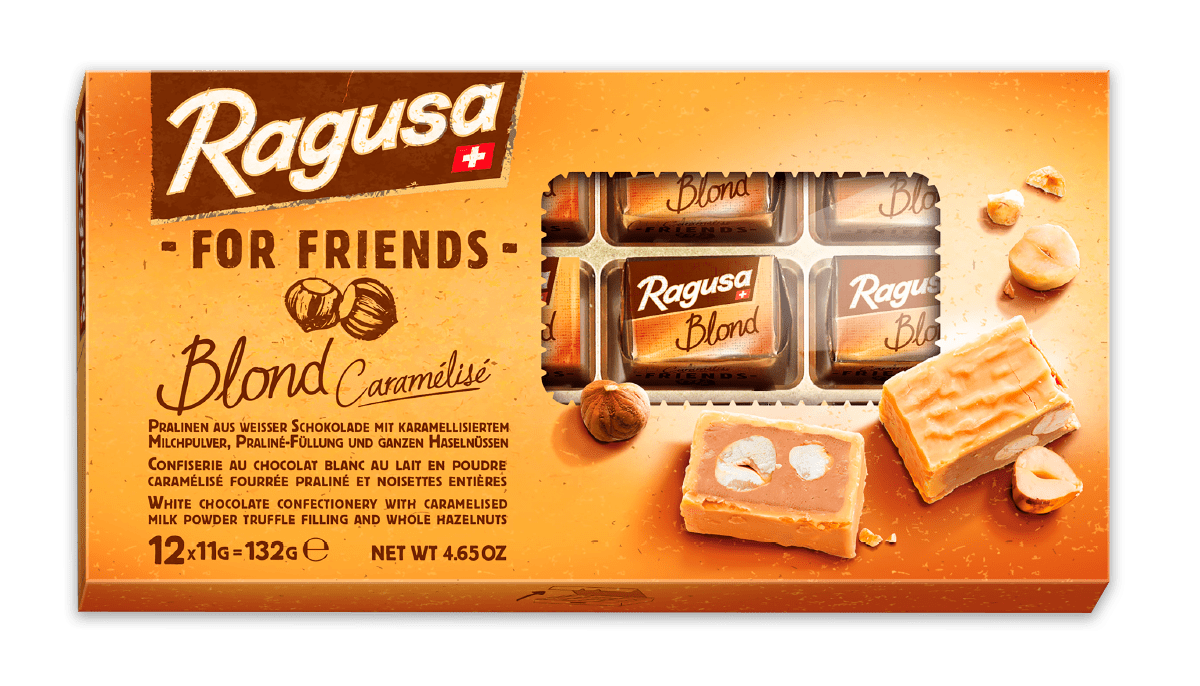 Ragusa For Friends 132g
When good friends suddenly become best friends, Ragusa was probably involved. Because even those who don't know much about mathematics know: Ragusa for Friends divided by 12 = friendships for life. Perfect for sharing or as a souvenir.

Ragusa 400g
Joy shared is joy multiplied by 16. Because this pack contains 16 portions of Ragusa. This ensures harmony in your family. At least while stocks last.

Ragusa For Friends 4 x 11 g
Are you the spontaneous type? Especially when it comes to spontaneously craving chocolate? Then these 4 small portions of Ragusa are made for you. Just right for on the go and in between.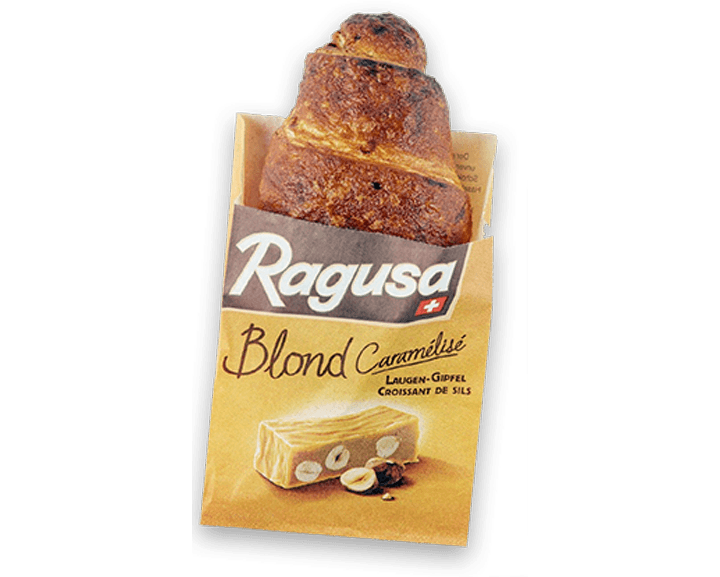 Ragusa Croissant
The early bird gets the worm. Or at least a Ragusa croissant. And if you're an incorrigible morning person, the pastries are also available for the rest of the day.

Ragusa 25g
It's the little things that make life. For example, this 25g bar. Because it's simply the greatest thing for the small hunger in between.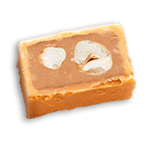 Ragusa blond
Ragusa Blond rocks chocolate lovers: «Blond» is distinct from white chocolate and expands the taste experience with a delicately sweet, smooth version. Blond is named for its golden yellow colour and pronounced hints of caramel.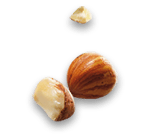 Nuts
A key ingredient of Ragusa: hazelnuts helped turn Ragusa into a cult product and a unique Swiss chocolate speciality.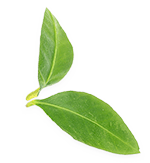 100% NATURAL
Cocoa mass • Hazelnuts • Cocoa butter • Whole milk powder • Sugar • Soya flour • Coconut fat • Melted butter • Skimmed milk powder
FULL LIST OF INGREDIENTS
INNOVATION CREATED IN RECORD TIME h3>
Daniel Bloch discovered blond chocolate during a trip to Quebec at the beginning of 2013. Impressed, the CEO of the family business Camille Bloch asked his team in charge of innovation to produce a Ragusa Blond. Created in record time, this new product has been available since February 2014.